Lost Vape Centaurus M200 Mod Kit
Lost Vape
Ultra fast performance
Capable of 200W
Beautiful and Durable Box mod
Manufactured to incredibly high standards
SKU
N/A
Categories
Dual Battery, Box Mod Kits, Intermediate, Lost Vape, Vape Starter Kits
Tags
Black, Blue, Box Mod, Device, Dual Battery, Gold, Gunmetal, Mod, Pink, Replaceable Battery, Subohm
Lost Vape Centaurus M200 Mod Kit
The Lost Vape Centaurus M200 Mod Kit is a beautifully styled kit with all the features we love about the iconic Lost Vape Brand.  Capable of 200W of power and complete with the Centaurs Subohm Tank, you'll have everything you need for a stylish subohm vape experience.  The Lost Vape Centaurus M200 Kit is made of 26mm seamless aircraft-grade aluminum alloy, so not only is it durable, but its portable and is light to carry.
Designed with the innovative 3-in-1 dial interference that is comprised of a 360° rotational wheel, a center fire button and LED battery level indication, you can easily control the mod single-handed and on the go. Plus it's a lot of fun!
The mechanic On/Off toggle switch combines with the 1 second bootup time to not only bring you fast vaping but avoids that pesky accidental trigger.  The Lost Vape Centaurus M200 Mod also features a dual-side changeable face panel. This means you can change colours and even engrave your own custom design. How's that for individual styling!
Thanks to the Quest 2.0 Chipset, the Centaurus M200 Mod is capable of multiple vaping modes including VPC, bypass, wattage, voltage and temperature control. You can even change how it fires too by swapping between soft, normal or hard mode.
The Lost Vape Centaurus M200 Mod is powered by dual external 18650 batteries (not inclued) and includes type-C fast charging.
The Centaurus M200 kit comes equipped with the Centaurus Sub Ohm Tank which features a sizable 5ml capacity, easy top filling and a top airflow system. It is compatible with UB Max Coil.
This device takes 2 x 18650 batteries to operate, found here.
We recommend an external charger for optimal charging, found here.
Coils For this Kit are found here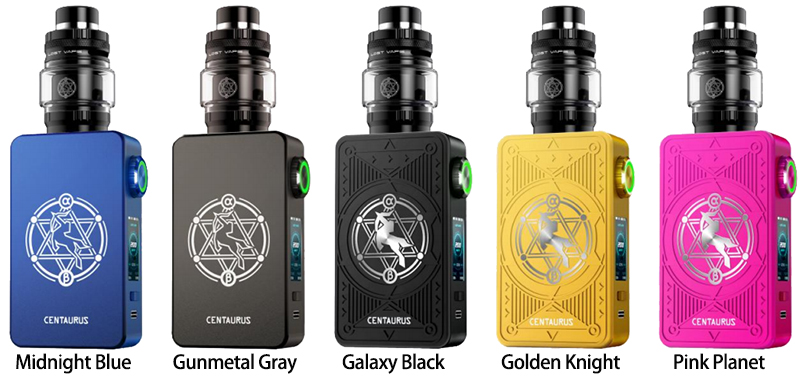 Features and Specs:
Dimension: 93*56.7*26mm
Power Range: 5-200W
Quest 2.0 Chip
Input Current: 1A-40A
Output Voltage: 0.7V-10V
Battery Voltage: 3.0V-4.2V
Battery: Dual 18650 Battery (Not Included)
Body Material: Aluminium Alloy & Stainless Steels
Input Voltage: 6.0V-8.4V
Screen Pixel: 0.96 inch 80*160
Type C Fast Charging
Dual-side changeable face panel
Seamless aircraft-grade aluminum alloy
Compact and durable, light and portable
Innovative 3-in-1 jog dial control
26mm solid body framing
Mechanic On/Off toggle switch with 1 second bootup
Powered by the Lost Vape Quest Chip
Equipped with Centaurus Sub Ohm Tank
5ml e-juice capacity, easy top filling system
Top airflow system, leak-proof design
Compatible with UB Max Coil
Centaurus Sub Ohm Tank:
UB Max Coil Compatible
Leakproof Design
Top-To-Bottom Airflow System
Adjustable Airflow
Top-Filling System
Large 5ml E-Juice Capacity
This Kit Comes With
1pc Centaurus M200 Mod
1pc Centaurus Sub Ohm Tank
1pc UB Max X1 0.15 ohm coil
1pc UB Max X3 0.30 ohm coil
1pc USB type-C cable
1pc User Manual
1pc Warranty Card
USAGE WARNING!

1- These Coils are designed for High VG Eliquids. If your eliquid contains less than 60% VG you will have leaking problems, please purchase accordingly.

2- You must prime your coil prior to use to ensure you do not burn the cotton in the coil. This means the cotton around the coil must be fully saturated before vaping.
3- Place a few drops of e-liquid directly into the cotton wicks around the coil. Fill the tank and stand it upright for at least 10 minutes (longer in cooler temperatures). A quicker way to prime it is to draw through the tank without firing, a few times.
4- Always use batteries in pairs – same brand, mAh, and amp limit
5- This is an advanced Item. Please use at your own risk and always use proper precautions and handling. Please note that there is an inherent risk with the use of any and all rechargeable batteries in any circumstance.
6- We will not be held responsible for damage if there is any modification of the batteries/chargers in any form. We are not responsible for any damage caused by misuse or mishandling of Li-Ion batteries and chargers.
7- Please note that we do not recommend using the built-in USB charging feature on mods that use replaceable lithium ion cells. Lithium ion batteries must be balance charged using a good quality external battery charger to avoid damaging the cells and to reduce the risk of venting. Micro and mini USB ports are notoriously fragile and as such we do not offer a warranty on any USB charging ports if you choose to ignore this warning